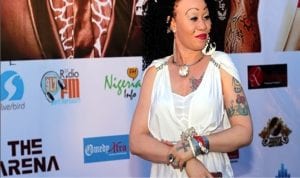 Lady IB, PMAN Chairperson, Rivers State
The Rivers State enter
tainment clan has come a long way since her creation in 1967, with a lot of epoch-making achievements. The industry boasts of top stars in the music, movie, comedy, tourism, beauty pageants, e.t.c These showbiz personalities have helped to boost the industry in the state as they are regular features at shows, concerts and other social events. They are also stars to be reckoned with outside the state as a result of their exploits in their various fields of endeavour in the Nigerian entertainment industry. Among the Rivers State born movie stars include:-
SAM DEDE
This hunk actor is one of the pioneers of the make believe industry in both Rivers State and Nigeria as a whole. The 'Issakaba hero' and lecturer of Theatre Arts at the University of Port Harcourt has featured in most of the best movies in Nollywood. One of his recent movies titled 'Grass Market' also featured top stars such as Nobert Young and Emmanuel Okutuate which was premiered in Silverbird Cinemas Port Harcourt.
He is currently the director General and Chief Executive Officer (CEO) of the Rivers State Tourism Development Agency (RSTDA), Port Harcourt, organizers of the world acclaimed CARNIRIV and tourism activities as well as musical fiesters.
MAURREN IHUA
She is another popular Nollywood actress from Rivers state known for her popular roles in 'Honest Deciever'  1 and 2, 'Domitilla (1996) among numerous other movies. She was kidnapped at a function in Port Harcourt in 2015 and the abductors demanded for a ransom of 10 million naira from family members.
She later regained her freedom on Friday 20th November 2015. Since then she has been very active in the industry.
COLUMBUS IROSOANGA
This Okirika, Rivers State born top Nollywood actor and Theatre Arts lecturer at University of Port Harcourt has helped to groom upcoming actors and actresses. His acting career started in the early '80s when he featured in varius soap operas with other top actors such as Comish Ekiye in Nigeria Television Authority (NTA). He also took part in dramas at the Rivers State Council for Arts and Culture. He is one of the showbiz personalities to contend with in the industry having featured in countless movies.
HILDA DOKUBO
The entertainment clan in Rivers State is incomplete without sultry actress Hilda Dokubo who has come a long way from acting. She became a Special Assistant to former Governor of Rivers State, Dr. Peter Odili. She started her movie career as a child actress and was featured in many Nollywood movies and currently runs an NGO titled, Centre for Creative Education in Port Harcourt which helps to train people for job creations. She also uses the organization to encourage the Niger Delta youths to embrace peace rather than militancy.
IBINABO FIBERESIMA
The beautiful Nollywood super actress and former beauty queen is currently, the embattled president of the Actors Guild of Nigeria (AGN). The friendly and unassuming Ibinabo is the franchise owner of Miss Earth Nigeria and also anchors  big events amongst other social activities. She was once the chairperson of AGN Rivers Chapter, before moving to the national.
MILLICENT JACK
She is another top practitioner in Nollywood. She was the vice chairperson of the Actors Guild of Nigeria (AGN) Rivers State Chapter. Pretty Millicent is also the African Movie Academy (AMAA) Best Costumier for 2009. She is well known in the make believe industry because of her professionalism in the industry.
GENTLE JACK
His muscular physique is a reference point in Nollywood though he refuses to admit that his towering height and intimidating biceps have stereotyped him. Kalabari, Rivers State born Gentle Jack has won the Abuja Carnival King twice and has featured in uncountable movies. The gentle giant also runs a body fitness equipment outfit.
TONTO DIKE
Ikwerre, Rivers State born screen diva, Tonto Dike is one of the most controversial actresses in Nollywood as she is always enmeshed in one controversy or the other. Despite that, she is a favourite of most producers because of her prowess in role interpretation. She recently got married to her heartthrob, Ambassador Churchill. She is currently blessed with a baby boy.
MONALISA CHINDA
This lady needs no introduction not just because she is an actress and a beautiful one indeed, but because she is been quite successful in her chosen field. However, this ex-Glo Ambassador was sometime enmeshed in a divorce issue with her erstwhile husband Segun Dejo Richards. The beautiful Ikwerre born Nollywood top actress has featured in many Nollywood movies and she has remarried recently.
THE MUSIC CLAN
As a state capital, Port Harcourt boasts of some of the Liveliest clubs in Nigeria as well as music venues. At present time, hip-hop, RnB and Reggae are most popular music styles among young people in the city. However another genre known as gyration music is trying to join the trend.
Port Harcourt has given birth to many locally and internationally admired musicians including Duncan Mighty, Muma Gee, Timaya, Daniel Wilson, M. Trill, Slim Burna, Lyrikal, Mr. 2 Kay, Step Agah, Oba Omega, Peter Stone Cold, Waconzy, Frank D. Nero. Lexy M, Arthur Willie Pepple, Lady IB, Soty Horsefall among others.
In highlife, we have the legendary Cardinal Rex Lawson of the Mayor's band, Jackwest Omodu of the Garden City fame, King Sunny Brown, the original pickin and Prince David Bull of the Professional Seagulls band all of blessed memories.
The following are brief notes on some of the popular artistes that have made the state proud with their historic exploits in the Nigerian music clan starting from the old to the new generations, they include:
REX JIM LAWSON (1935-1971)
Popularly known as Cardinal Rex Lawson was a singer, trumpeter and band leader from the Kalabari extraction of Rivers State Nigeria. He was one of the best known highlife musicians of the 1960s. His band, the Mayor's Dance Band had several hits that revolutionalised the highlife genre in Nigeria and the songs are still the favourites of both the old and new generations across the country. He also made his mark on the international arena.
He played with renowned highlife maestros such as Sammy Obot, Bobby Benson, Victor Olaiya, Chris Ajilo and other Ghanaian and Nigerian highlife musicians. Some of his recorded popular hits include So Alatene, 'Yellow Sisi' 'Gowon Special' and Jolly Papa. Others are 'Love Mu Adure,' Sawale etc.
In later years, the mayor's dance band became known as 'Rivers men.' After Rex Lawson's death, Riversmen reestablished itself as the professional seagulls band led by late Prince David Bull who remained the rallying point throughout the period the band existed.
KING SUNNY BROWN
Late King Sunny Brown popularly known as the 'original pickin' is another prominent figure in the Nigerian highlife industry. He began to sing at a young age in Christ Army School, there he played in the school band with Rex Lawson. During the Nigerian Civil War, Sunny Brown and Rex Lawson played in the 3rd Marine Commando. He performed with musicians like Prince David Bull and thrilled fans at different venues across the country. He remained a rallying point for younger musicians until his death few years back.
JACKWEST OMODU
This era cannot be complete without mentioning the contributions of prominent Port Harcourt born highlife master, the Late Jack West Omodu of the Garden City bank who took highlife to the next level. His hit songs are still very popular among the Ikwerre speaking people of the state.
DANIEL WILSON
Owner, Wilson Foods and Confectioneries is one of the pioneer Reggae artistes ever produced in the state, the 'Reggae Muffin soldier achieved fame and wealth throughout his music career as one of the pioneer Reggae crooners in Rivers State and Nigeria.
ARTHUR WILLIE PEPPLE
He is another popular musician in Rivers State who has contributed immensely to the development of the music industry in the state. He was also one time chairman of Performing Musicians Association of Nigeria (PMAN) in the state and still very active in both the music industry and the activities of the musicians body.
DUNCAN MIGHTY
Ikwerre born popular musician, Duncan Mighty is a king not only in the South-South, but in Lagos. The mainstream of entertainment, he is loved for his music, style and dance steps. He performs well in any concert within and outside Port Harcourt.
LEXY M
This Ogoni, Rivers State born music sensation was a former chairman of Performing Musicians Association of Nigeria (PMAN) Rivers State Chapter. He won the best Highlife Musicical Artiste of the year Award 2009 at Odudu Music Award. He has a new album titled 'Eleni' which has 12 tracks and still waxing stronger in the industry.
PETER STONE COLD
Peter Stone Cold is a very popular musician in Rivers State. He won the Gyration category at the Odudu Awards with his popular. 'Hold Your Waste' song. He is very good in stage performance and will soon be dropping his next album.
SOTTY – HORSEFALL
This Buguma, Rivers State born pretty singer took the music clan by storm with her debut album titled 'Malaria.' She is a very good musician and has topped the African Fusion top chart video on NTA 2 Channel 5 severally and she is doing very well in her music career, though currently missing in action.
MUMA GEE
Gift Iyumame aka Muma Gee is a prodigious artiste with a celestial knack for the genuine and the resplendent. Her emergence in the music, scene in Nigeria marked a decisive turning point in an era that has witnessed a death of authentic music, native to the Nigerian audience.
Her style of music shows a pristine stylistic performance pattern original to the African people and ends carrying its rhythm. Something different from the westernized musical contraption that is now common stance in the industry. No wonder she has many awards for her musical talent.
She is currently married to Nollywood star, prince Eke.
LADY IB
Ibitoru I. B Green better known as Lady IB is a singer from Bonny, Rivers State and the immediate past chairperson of the Performing Musicians Association of Nigeria (PMAN) Rivers State Chapter. She is known to have united the warring groups during her tenure and brought them back to the union after they might have left the Association due to the troubles that rocked the musicians body in the past
COMEDY CLAN
For the Comedy Clan we have the following humour merchants popularly known and rivaled by fans across the country for their hilarious jokes, they include:
JULIUS AGWU
This top comedian is one of the forces to be reckoned with in the stand  up comedy clan. His past was symbolized by thorny pathway. He actually started his comic business in school at Uniport, but when he later came to Lagos he lived the life of a nomad until his breakthrough came. Today, he is a millionaire and dines with society top brass. This very busy comedian is still actively cracking ribs at the moment, but still finds time to hang out with friends, fans and well wishers. Apart from comedy, he is also into music and acting.
TEKENA IYALLA
This graduate of marketing is popularly known as Chief of Waterside and one of the Funky Four Plus One (4+1) members on Rhythm 93.7FM which airs every Friday. He is also the winner of music comedy category for his comedy titled 'Handbag'. Tekena is a talented comedian and his dress sense is very commendable.
DAN D HUMOROUS
Born Daniel C. Nwoka is a multitalented standup comedian who delivers his jokes in a unique way. He once had a festival of comedians recently tagged "Good Boy Gone Better." He is a member of the Funky 4+1 on Rhythm 93.7FM and a graduate of linguistics.
PRINCE HEZEKIAH
The Buguma born comedian started comedy in 2001 in Port Harcourt. Good in Gospel concerts, he also anchors 'Make Your Day' in AIT, Laffo Roma, he is now on Ray Power 106.5Fm and anchors launch hour comedy show tagged Laugh and Jamz. Apart from these popular comedians, others include Angel D'Laugh, Rugged Pastor among others.
It is therefore no gainsaying the fact that in the past 46 years, the Rivers State indigenous entertainers have continued to rule the Nigerian entertainment industry known for its glamour, glitz and razzmatazz and will continue to do so for a very long time to come.
CLICK HERE TO READ MORE FROM: Delta Region
Chuka (Webby) Aniemeka
Chuka is an experienced certified web developer with an extensive background in computer science and 18+ years in web design & development. His previous experience ranges from redesigning existing website to solving complex technical problems with object-oriented programming. Very experienced with Microsoft SQL Server, PHP and advanced JavaScript. He loves to travel and watch movies.
View More Articles